It's not enough to just plug and play. Better peace of mind comes with knowing that your PC is safe from being damaged by sudden surges and spikes.
There are things one should consider when buying a PC. Likewise when you have a gaming PC. Their power rating would classify them as heavy-duty equipment. On that note, if you are looking for surge protectors to keep your system safe, it should have at least a surge rating of 1,000 joules. The higher the rating, the better the protection. But then it is not just about where to plug your PC power cord.
Using a PC for gaming is going to need more than one power spot. As a gamer, you need to plug in your other equipment as well. This is why the number of available AC outlets on a surge protector should also count.
You do not have to do the searching anymore as below, we have compiled a list of the best surge protector for gaming PC that is suitable for your gaming PC, while also having enough outlets for other equipment.
Belkin 12-Outlet Home/Office Surge Protector
Power up to 12 equipment at the same with the Belkin 12-Outlet Home/Office Surge Protector. Enough power outlets and enough surge protection to go round. A rather simple yet sturdy and efficient design, this Belkin surge protector is designed to balance heavy power adapters. The two exterior row outlets have a BlockSpace design, enough for a power adapter of any size to sit on. Each outlet is equipped with sliding safety covers for added protection. In addition to the 12 AC outlets, it also features in and out phone line ports RJ-11 Data Line Protection for Telephone/Modem/Fax/DSL  Coaxial or Cable.
A 3940-Joule energy rating is just enough to comfortably cushion any sudden surge and protect your PC from harm
Inbuilt voltage detection combines with intelligent circuitry to provide the correct power output to connected equipment by detecting its power needs. For better performance of the connected equipment, the power filtration feature removes unwanted line noise by reducing electromagnetic interference (EMI) and radio frequency interference (RFI).
Sit your surge protector conveniently at distance and out of the way with an eight-foot-long heavy-duty power cord. Right angle designed plug head to fit in tight spaces.
A strong damage-resistant housing protects circuits from impact damage and rust, also burst fire.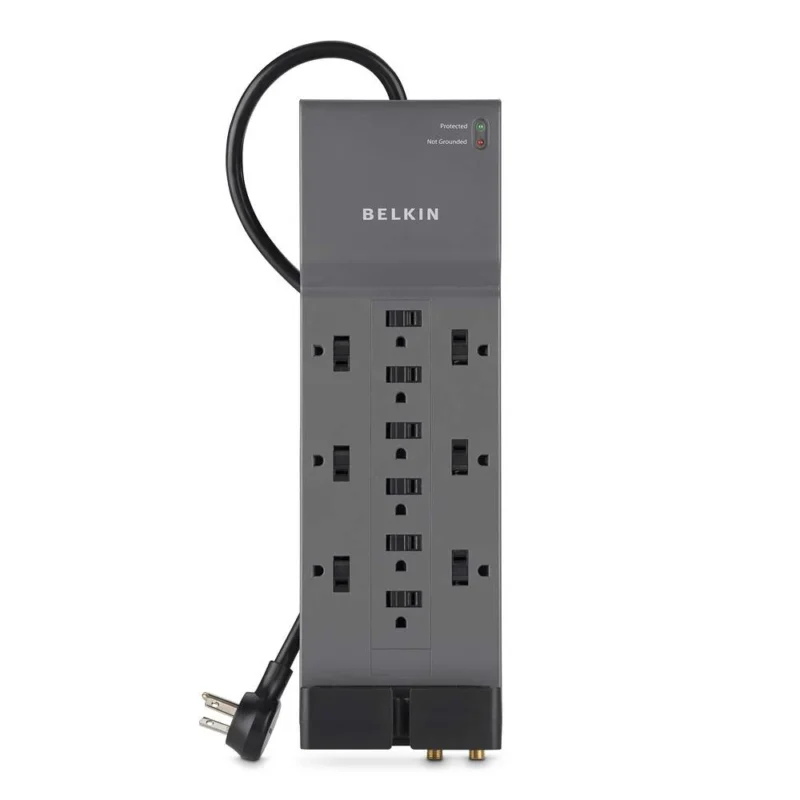 Specs
AC Rating: 15A/125V/1875W
Maximum Surge rating: 3780J
Maximum Spike Voltage: 6000V
Noise Filter Rating: 150K Hz ~100M Hz, up to 75dB
Clamping Voltage L-N: 400V, L-G: 500V, N-G: 500V
Features
8 ft heavy-duty power cord
Six Block Space surge-protected outlets
Six regular surge-protected outlets
Right angle plug
Protected/Not Grounded indicators keep equipment safe
Sliding safety covers
1-in, 2-out RJ11 telephone/fax protection
Coaxial cable protection
Inbuilt voltage detection
Reduced electromagnetic and radio interference
Space-saving design
Safety indicator lights
Overload Protection
APC SurgeArrest Performance P11VNT3
All your PC gaming power needs is a surge protector. The APC SurgeArrest Performance surge protector comes with diverse outlets. 11 AC output ports, Phone (Splitter), Coax, and Ethernet ports as well. All 11 AC outlets are protected with receptacle shock safety shutters to prevent exposure and shock accidents. Block spacing to accommodate transformers of different sizes.
All protected equipment works better without errors or lockups, thanks to the APC noise filtering reducing EMI/RFI line noise.
The surge protector is equipped with indicators to show full protection and possible risks. An overload indicator alerts when 100% surge protection is not being provided as a result of connected equipment requiring more power than supplied power. A damage surge protector will not show the protection working indicator.
In the event of a circuit compromise due to damages from power surges, APC SurgeArrest has a Fail-Safe Mode that disconnects power flow to connected equipment. This will prevent further surges from causing any damage to your PC.
A sturdy finish and an 8 ft long cord with 180 degrees Rotating Cord Retainer to relieve twisting strains on the power cord.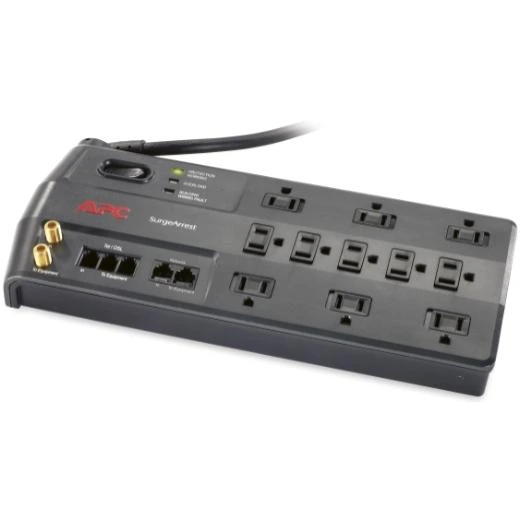 Specs
Clamping voltage: 400 volts
Surge energy rating: 3020 Joules
Number of Outlets: 11
Input frequency: 50/60 Hz
Dimensions: 1.57 x 4.69 x 11.89 inches
Weight 2.34 oz. (1.06 kg)
Cord Length: 8.01ft (2.4 meters
Features
Receptacle Shock Safety Shutters
Overload Indicator
Site wiring fault indicator
Protection working indicator
Transformer Block Spacing
Noise Filtering
Resettable circuit breaker
Anker PowerPort Strip 12 outlet surge protector
With a 4,000 joules maximum Surge rating the Anker PowerPort Strip 12 outlet surge protector keeps your equipment protected for a longer time. It considers your power needs. Featuring 12 AC outlets and 3 high-speed charging USB ports, there is enough protection to go round to all your equipment and charge your USB-powered devices.
The PowerIQ feature of the Anker works to deliver tailored high-speed charging based on the connected device. So you can save up to 1 hour of charging time when you charge your iPhone, Samsung, and other devices at safe output speeds based on their output needs. Flash charging is not supported though.
A 6 ft cable might not be the longest but can power your needs away from the wall outlet if need be. Tap into your wall outlet with a 45° flat plug that can easily fit in hard-to-reach places.
The housing is flame-retardant and the wiring is covered with a thick rubber coating to ensure safety from electrical hazards. It also has four keyhole mounting slots if you desire to change your power surge on the wall.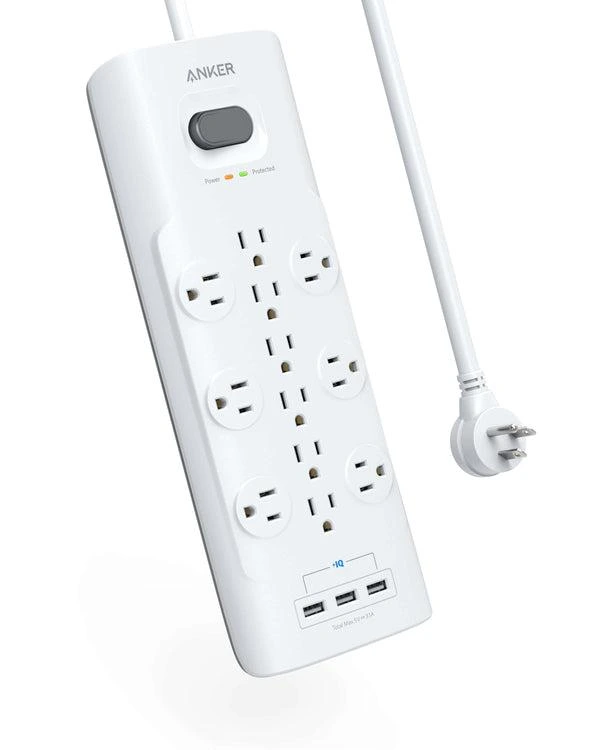 Specs
Dimensions: 12.9 x 4.7 x 1.4 inches
Weight: 1.99 pounds
Input: AC 100V-144V
Output: 15.5W, 5V ⎓ 3.1A
Maximum Surge Rating: 4000 Joules
Voltage: 100144 Volts
Power cable length: 6 ft. (1.8 m)
Housing: Fire retardant Rubber
Features
7 point Superior safety system (fire resistance, overload protection, temperature control, etc).
Easy wall mounting
PowerIQ
High-speed USB charging
Optimized design
KMC Surge Strip 6 (1200J)
Featuring a simple yet sturdy design, the KMC Surge Strip keeps your mind at ease when it comes to the safety of your gaming equipment. Occupying minimal space, it extends from a 15 ft power cord to provide six more AC outlets for tapping power from.
The 1200-joule energy rating provides maximum protection for all your gaming equipment.
A Lighted power switch equipped with a 15-Amp circuit breaker indicates only when connected equipment is being protected.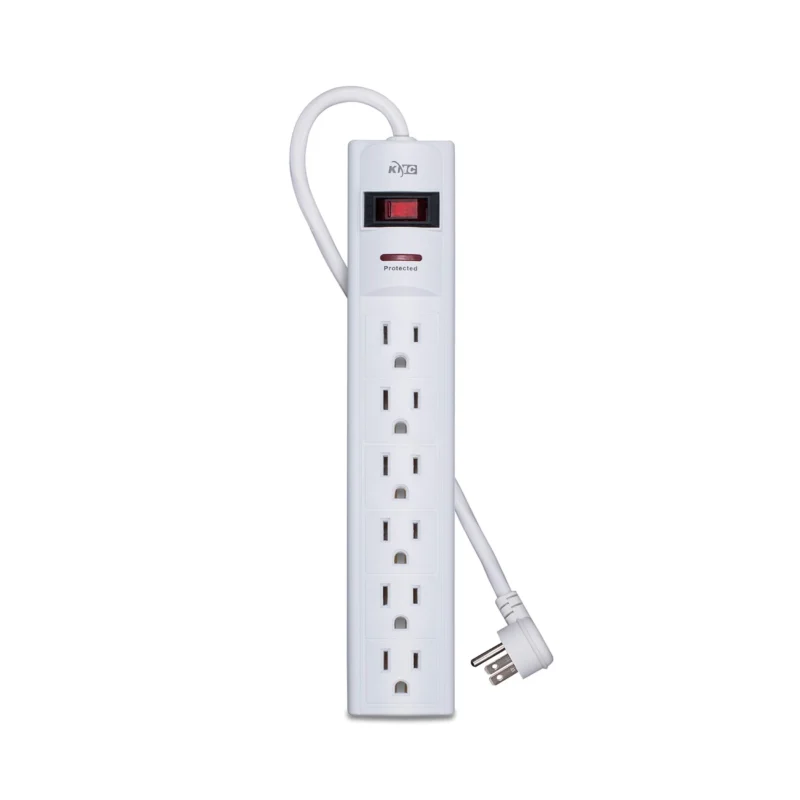 Specs
Dimensions: 11.8 x 5.4 x 1.9 inches
Weight: ‎1.9 lb
Surge rating: 1,200 joules
Cord length: 15 ft
Outlets: 6
Features
Lighted power switch
Space-saving design
FAQ on Best Surge Protector for Gaming PC 
Related Posts:
Please follow and like us: