How To Turn Off Windows Defender Window 10.
Windows Defender is the security feature that Microsoft puts in every version of Windows. It protects your computer and files from viruses, spyware, ransomware, and some other types of malware and hackers.
Sometimes, you may want to turn it off Windows Defender to perform certain operations that Windows Defender may interfere with, Or you plan to install other anti-virus software.
In this article, I will show you different ways how to turn off Windows Defender in Windows 10.
How To Turn Off Windows Defender Window 10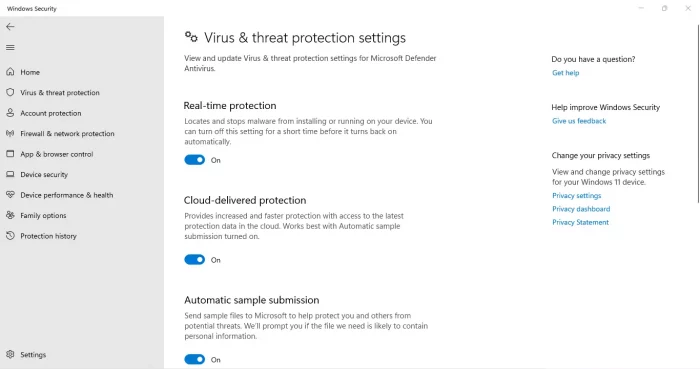 Method 1: Turn off windows defender temporarily
Click "Settings" in the "Start Menu". And then click "Update & Security".
Select "Windows Security" from the left panel and click "Open Windows Defender Security Center".
Lunch Windows Defender's settings, and then click on the "Virus & Threat Protection Settings" tab
Toggle the Real-Time Protection, Cloud-Delivered Protection, and Automatic Sample Submission switches to turn Windows Defender off.
Method 2: Using Group Policy to disable Windows Defender
Press "Win + R" and Type "gpedit.msc" on your keyboard, then hit Enter or OK.
Click on Computer Configuration followed by Administrative Templates.
Click on "Windows Components" and then double click "Windows Defender Antivirus".
Double click "Turn off Windows Defender Antivirus".
Finally, select the Enable button on the left edge and click OK.
Conclusion
Windows Defender is meant to protect your computer and its data. However, for some reason, you may need to turn off Windows Defender. If you don't know how to do this, follow the steps above.
Now, you should know how to disable or turn off Windows Defender using different methods. If you have any questions or difficulties, you can let us know in the comment. How To Turn Off Windows Defender Window 10
Related Post:
Please follow and like us: