Whether you work in the office or you are just a student, the importance of having a printer at home can never be overstressed. You do not have to make a mad rush early in the morning to get things printed that you need for that morning. Although a good idea would be to print them the day before, you never can tell when that call from the boss is going to come in. Bottom line, you need a printer for your printing needs at home.
HP is a popular name when it comes to printers. They have so many Printer models that are suitable for home use.
There are a lot of Printers out there, but not all of them will be a good fit for home use. Some will be overkill for home use as you will not get to use them to their capacity. Besides having a printer that sits well within your and even function with your smart home system will not be a bad idea. Below we list the best HP printers for home use.
HP OfficeJet 200 Portable Printer
Print, scan and copy with the HP OfficeJet 200 printer. A small-sized in-one printer with easy mobile printing support from your smartphone and tablets aside from your PC. Its small size coupled with a long-lasting battery for continuous printing makes it a portable printer that you can carry along easily. Just charge and slip in your bag and you are ready to go.
A high page yield saves you more in the long run. Though not the fastest at speed, you can print or copy at a speed of up to 10 pages per minute.
HP Auto Wireless Connect allows for wireless printing via its built-in wireless network and Wi-Fi connectivity. Print via a Bluetooth Low Energy feature from a range of up to 5 feet from the printer without much stress on the battery.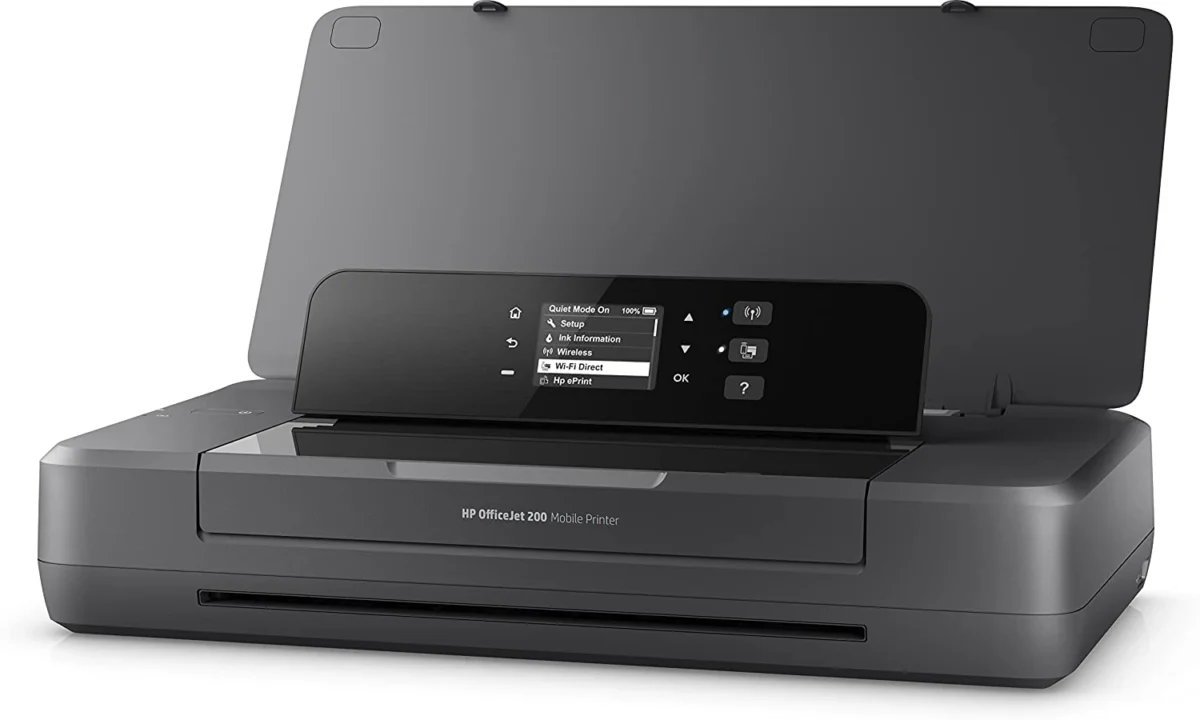 Specs
Print Speed: 10 ppm (mono), 7 ppm (color)
Memory: 128 MB
Monthly Duty Cycle: 500 sheets
Features
Long-lasting battery
Quiet mode setting
Higher page yield
2-inch color MGD control panel screen
Streamlined Wi-Fi Direct connectivity
Bluetooth Low Energy (BTLE) feature
10-sheet scan input tray
ADF
HP Envy 6055
The HP Envy covers all printing needs at home and office. From Scanning documents and photos down to printing copies.
Easily and quickly print from your mobile gadgets via an easy-to-setup Bluetooth connection. It features self-healing Wi-fi to reduce interruptions by automatically detecting and then fixing issues with the Wi-Fi connection.
An optional HP+ Smart Printing System, when activated, allows easy remote printing and scanning from any location via the HP Smart app. Activating the HP+ option keeps your printer at an always ready-to-print mode, ready to receive your printing instructions from your HP account, plus 6 months of free instant ink. After this, a monthly subscription fee is required.
A smart control panel does not give room for accidental errors. Buttons appear only when needed.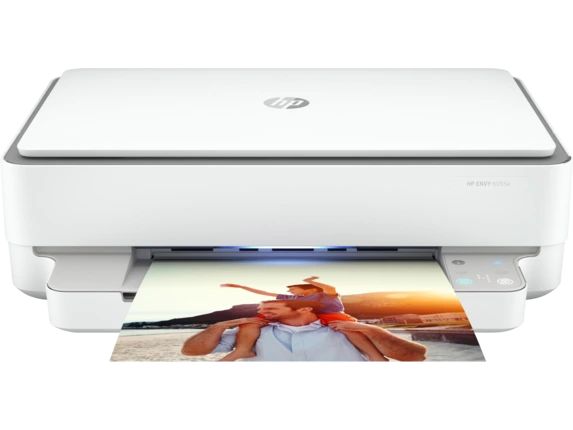 Specs
Dimensions: 17.02 x 14.21 x 5.2 inches
Weight: 11.51 lb
Tray capacity: Up to 100 sheets (input tray), 25 sheets (output tray)
Print speed: Up to 7 ppm
Memory: 256 MB
Processor speed: 800 MHz
Connectivity: 1 Hi-Speed USB 2.0; 1 Wi-Fi 802.11ac (dual band) with Bluetooth 4.2
Resolution: Up to 1200 x1200 rendered dpi (black), 4800 x 1200 optimized dpi (color).
Duty cycle: Up to 1000 pages monthly.
Recommended duty cycle: 100 to 400 pages monthly.
Number of print cartridges: 2 (1 each black, tri-color)
Features
Automatic paper sensor
Automatic two-sided printing
Mobile Printing Capability
HP Smart app, Apple AirPrint, Mopria, and Chrome OS
HP Smart Tank Plus 555
The HP Smart Tank is one of the best HP printers for home use and features an Easily refillable ink tank system that gives high paper yields. Print on a variety of Media types including Plain paper, Envelopes, Photo papers, Glossy and Matte Brochure Papers, and other special  inkjet papers
The control panel features buttons and Leads with an ICON LCD for display input and output feedback. But it also has Hi-Speed USB 2.0, inbuilt dual-band Wi-Fi, and Bluetooth LE, print with ease using the HP Smart app, and extended support for Apple AirPrint, Mopria, Google Cloud Print, and Fire. Print directly from the phone and the cloud (Drive and Dropbox).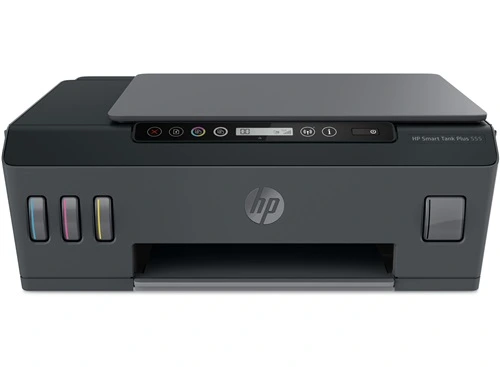 Specs
Dimensions: 447 x 373 x 158 mm
Weight: 5.14 kg
Processor speed: 800 MHz
Memory: 256 MB
Print speed: Up to 11 – 22 ppm (black); Up to 5 – 16 ppm (color)
Copy speed: Up to 10 ppm (black); Up to 2 ppm (color)
Input Capacity: Up to 100 sheets
Print resolution: Up to 1200 x 1200 rendered dpi (black); Up to 4800 x 1200 optimized dpi (color)
Copy resolution: Up to 600 dpi
maximum copies: Up to 99 copies
Reduce/enlarge settings: 25 to 400%
Duty cycle: Up to 1000 pages monthly
Recommended duty cycle: 200 to 800
Features
Scan to PDF
Borderless printing
Wireless Direct Printing
Energy savings technology
Remote printing
HP Auto-Off
Apple AirPrint
Google Cloud Print 2.0
Mopria
Wireless Direct Printing
HP OfficeJet Pro 6978 All-in-One Wireless Printer
Take wireless printing to another level at home. The HP OfficeJet Pro 6978 inkjet printer features wide mobile compatibility options for wireless printing via HP ePrint; Apple AirPrint, Mopria certified, and Wireless Direct printing. Equipped with Multiple connectivity options, scan, print, copy and fax documents remotely at fast speeds right from your mobile.
A 2.65 color touchscreen gives easy feedback and control. Print faster with a 35 sheet Automatic Document Feeder that supports two-sided printing and scanning. The 225 sheet input tray requires fewer paper inputs.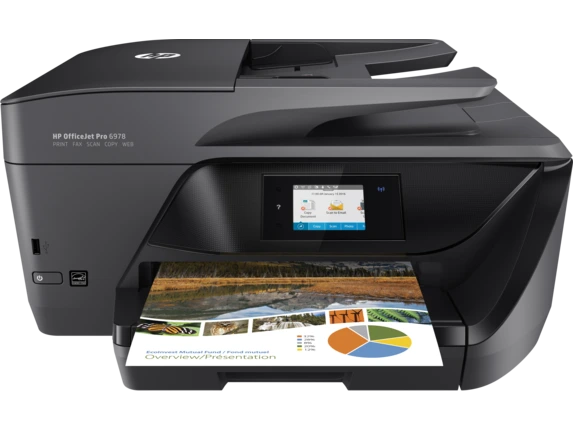 Specs
Dimensions: 18.26 x 15.35 x 9.0 inches
Weight: 17.9 lb
Memory: 1 GB
Display: 2.65 inches CGD touchscreen
Processor speed: 500 MHz
Resolution: Up to 600 x 1200 dpi
Monthly duty cycle: Up to 20,000 pages
Recommended monthly page volume: 200 to 800
Print speed: Up to 20 ppm (black); Up to 11 ppm (color)
maximum: Up to 99 copies
Capacity: 225-sheet input tray, 35-sheet ADF, 60-sheet output tray
Copy reduce/enlarge settings: 25 to 400%
Features
Scan to thumb drive/PC
Borderless printing
Automatic Duplex printing
Duplex ADF scanning
Energy efficiency
Mobile printing
HP Instant Ink
HP DeskJet 2722 All-in-One Printer
The HP Deskjet 2722 is an all-in-one wireless inkjet printer that covers all your home needs from printing, scanning and copying documents. Compatible with the HP Smart app, connect wirelessly via its Bluetooth and dual-band Wi-Fi and control all functionalities right from your mobile phone. Scan and print remotely with your mobile phone and monitor ink levels as well.
The 60 sheets tray and 25 sheets output tray helps you to keep up with continuous printing. Print with enough ink all year round. The optional HP instant ink sends a delivery order when your ink is getting low.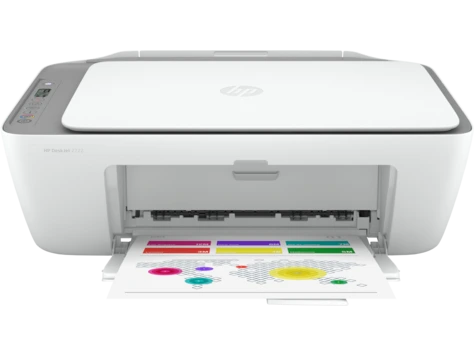 Specs
Weight: 7.55 lb
Dimensions: 11.97 x 16.74 x 6.06 Inches
Capacity: 60 sheets
Maximum number of copies: Up to 9 copies
Print speed: Up to 7.5 ppm (black); Up to 5.5 ppm (color).
Print resolution: Up to 1200 x 1200 rendered dpi
Monthly duty cycle: Up to 1000 pages
Copy resolution: Up to 300 x 300 dpi
Memory: 86 MB
Maximum Memory: 512 M bit DDR1; 160 M bit flash
Features
Dual-band Wi-Fi
Wi-Fi self-reset
Instant ink
Remote printing.
FAQ On Best HP Printers For Home Use
Which printer is best, HP or Canon?
Both HP and Canon printers are good photo printers. Canon prints more natural-looking graphics making it ideal for printing nature graphics. HP gives a warmer glossy print which is superb. The choice depends on the use.
Are Wi-Fi printers easy to set up?
Printers with wireless connectivity always come with a step by step set up guide that is easy to follow. They are usually quite easy to set up, especially if you are familiar with Wi-Fi workings.
How long should a printer last?
With constant use and constant upgrade needs, a printer is expected to last around 5 years. Good maintenance can extend lifespan higher, but you need an upgrade eventually.
Related Posts:
Please follow and like us: