Best tablet for reading. While the hard paper book copy is always a good addition to your shelves, knowledge, vocabulary, leisure, and entertainment as well. For someone with an addicting reading habit, being able to read on the go, anytime, anywhere without much stress is a welcome change. And that welcomes us to a whole new world of ebooks and electronic reading.
For a good e-reading experience, you need a good device for that. Specifically a tablet because of its display size. These usually come with a unique display and WiFi and Bluetooth connectivity. So even if we don't mention that, know they do. Below we will be looking at the best tablets for reading.
These are the Best tablet for reading:
Kindle Paperwhite Signature Edition
Kobo Elipsa
Likebook P10
Huawei MediaPad M5 Lite 10 for Reading
Fire HD
Apple iPad Mini
Best Tablet For Reading 2022
Kindle Paperwhite Signature Edition
An 11th generation reading tablet from Amazon Kindle, you bet this is your choice for electronic reading. The fairly large 6.8 inches Paperwhite display, detailed up to 300 PPI and 16-level grayscale, gives a good paper experience. Auto-adjusting front light combined with an anti-glare screen, makes it easier on the eyes regardless of sunlight or not. Warm light can also be adjusted for night reads.
With 32 GB of on-device storage, you can stack up thousands of books on your electronic shelves. And if that is not enough, it also comes with free cloud storage for all Amazon content.
Get more reading time for less charging time. Battery Life can last up to 10 weeks after a single charge, reading half hour a day at minimum light and battery settings.
Bottom navigation makes it easier to switch screens between what you are currently reading at home or library. Experience a good feel of accessibility options. You can navigate on your tablet using text to speech with the VoiceView screen reader.
You can read and listen to a wide range of e-books. Up to 13 content formats are supported including AZW (Kindle), AZW3 (Kindle Format 8), TXT, PDF, unprotected MOBI, PRC, HTML, DOC, DOCX, JPEG, GIF, PNG, PMP, Audible audio format (AAX).
Built to be rugged against any weather, the Kindle Paperwhite signature edition is waterproof. Able to withstand water depths of up to 2 meters for 60 minutes, you can take it for a read in your pool.
A lover of books is a lover of trees as well. The Kindle Paperwhite is designed to be environmentally friendly, made mostly of recycled materials. So also, you will be saving a tree or two every time.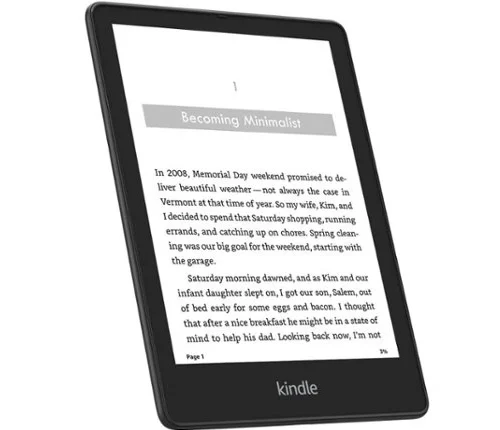 Specs
Size: 6.9 x 4.9 x .32 inches (174 x 125 x 8.1 mm).
Screen size: 6.8 inches.
Display: 300 PPI glare-free screen
Weight: 7.3 oz (208 g).
32 GB storage
Supported content formats: Kindle Format 8 (AZW3), Kindle (AZW), TXT, PDF, unprotected MOBI, PRC natively; HTML DOC, DOCX, JPEG, GIF, PNG, PMP, and Audible audio format (AAX).
Waterproof rating: IPX8
Features
Built for reading
Wireless charging
Adjustable screen – auto-adjusting front light and adjustable warm light.
Anti-glare screen
Up to 10 weeks of battery life on a single charge
VoiceView screen reader
Button navigation for switching between the home, library, and current read.
Free cloud storage
Waterproof
Software Security Updates up to 4 years after the discontinuity.
Kobo Elipsa
The Kobo Elipsa is an e-reader from the Kobo book store. It functions as a book, notebook, and bookstore combined. Powered by a quad-core processor, it does what it does pretty fast @1.8 GHz.
A large 10.3 inches touchscreen makes a wide replacement for conventional paper. The screen is glare-free and powered with Carta 1200 E Ink technology for a faster display, quicker page turns, and deeper contrast. It also comes with Dark mode and ComforLight feature for auto brightness adjustment.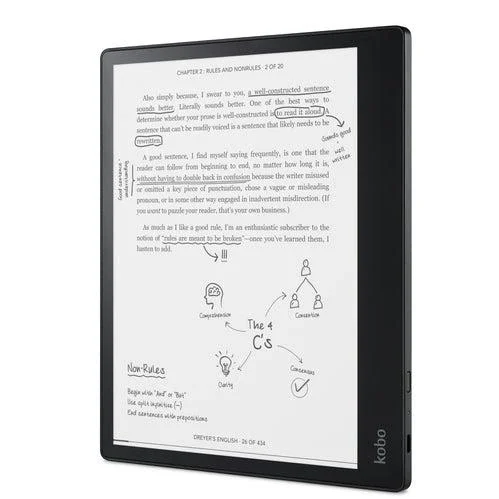 Take notes with the Kobo Stylus in eBooks and PDFs, and easily convert personal notes to text that you can export. The built-in notebook feature transforms to text, handwriting notes. Import and export documents with Dropbox support.
You don't have to walk around with luggage or books anymore. The 32GB of storage holds more ebooks than you can think of placing in a bag. It supports up to 15 different file formats. Also read in different supported languages including English, French, French (Canada), German, Portuguese, Portuguese (Brazil), Dutch, Danish, Swedish, Spanish, Spanish (Mexico), Italian, Catalan, Finnish, Norwegian, Turkish, Japanese, Traditional Chinese. Connect with WiFi or USB-C connectivity.
Comes with a compatible sleep cover to keep it safe and easily sleep and wake the screen.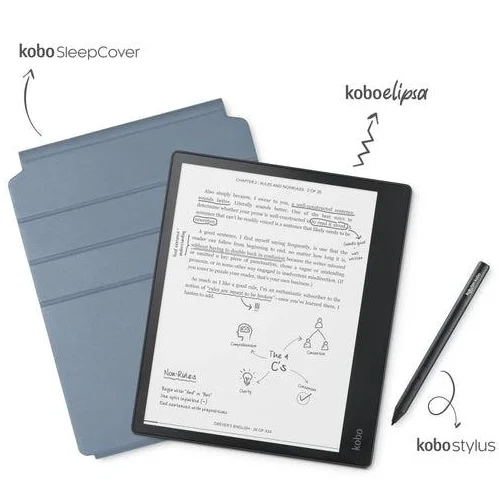 Specs
Dimensions: 193 x 227.5 x 7.6 mm
Weight: 383g
Display size: 10.3 inches
Display Type: E Ink Carta 1200 touchscreen. 227 PPI
Display resolution: 1404 x 1872 resolution
Storage: 32 GB
Supported content Formats: EPUB, EPUB3, FlePub, PDF, MOBI, JPEG, GIF, PNG, BMP, TIFF, TXT, HTML, RTF, CBZ, CBR
Features
ComfortLight – A one-color light with adjustable brightness
E ink display
Anti-glare screen
Lightweight
Supports up to 15 content Formats.
Likebook P10
The Boyue Likebook P10 is a tablet dedicated to e-reading.  A 10 inches large display makes good work on that. Featuring a front-lit display with a color temperature adjustment system, you can read morning and at night. Its E Ink Carta HD e-paper technology capacitive touchscreen gives a good paperlike experience with a resolution of 1200×1600 and 200 PPI.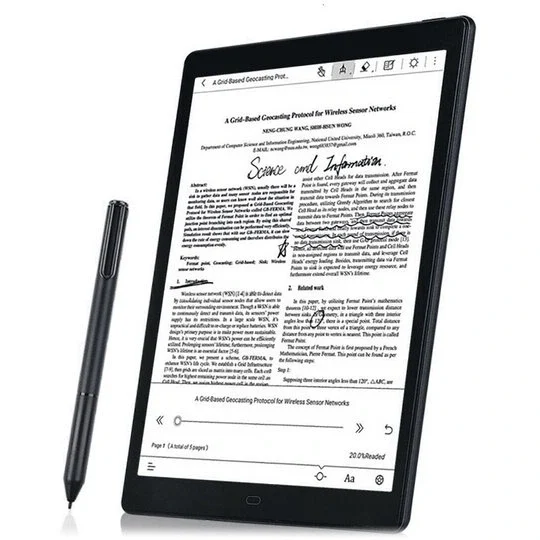 Running on an Android operating system, 8.1, it supports major content formats. Plus you can download any bookstore app or reader you want that supports what you want to read. Check your mails, connect via Google Meet, etc, and maybe throw in a game or two for leisure breaks if you want. Don't worry, the quad-core 1.5 GHz processor will make sure it runs smoothly.
64 GB of internal storage ensures you have enough space for all you need. And all you need can run on its 3,900 mAh battery that can last for weeks.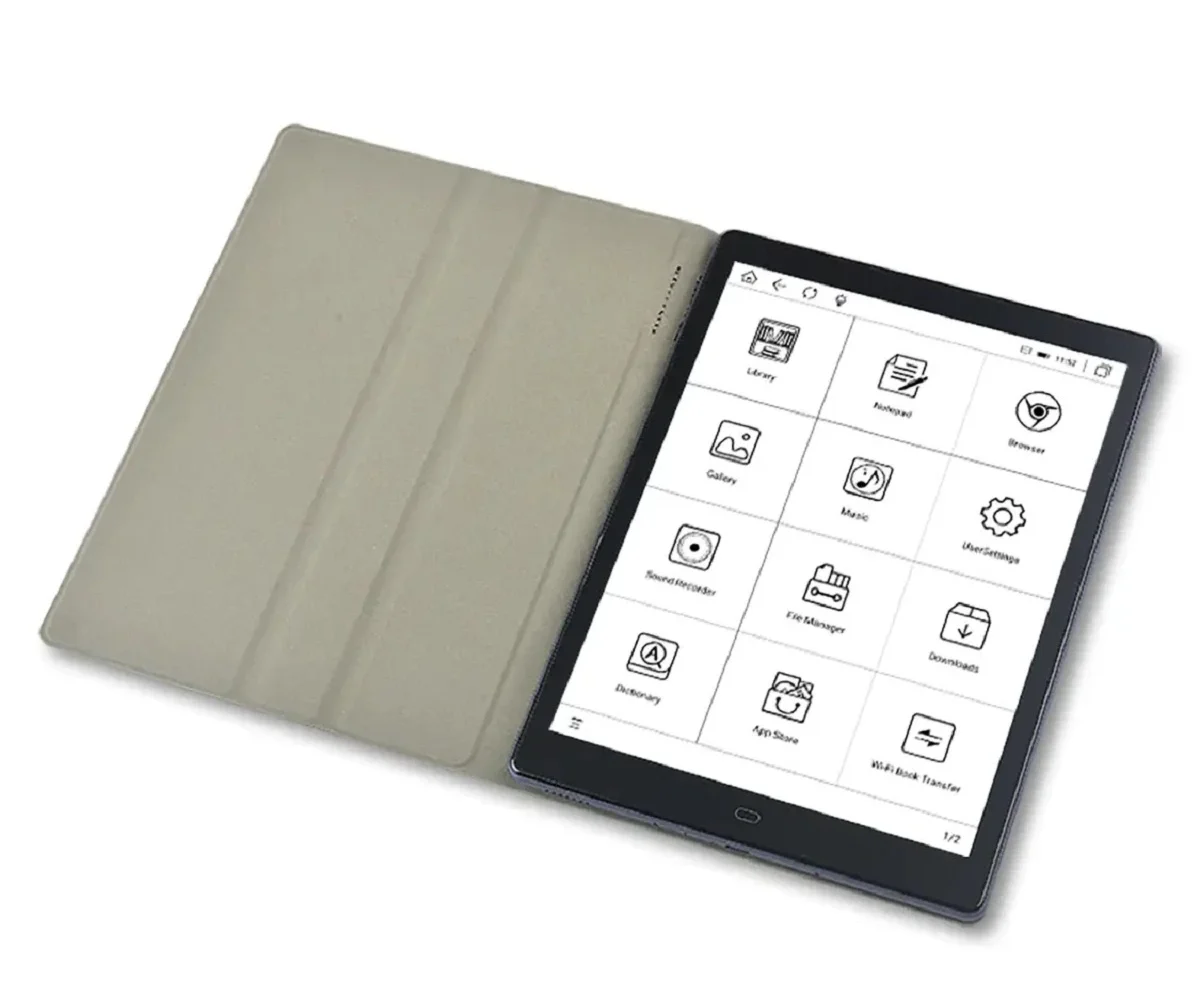 Specs
Dimension: 173.8 x 239 X 8.5 mm
Weight: 458 g
Screen Size: 10 inches
Display Type: E-Ink Carta HD Touchscreen
Display Resolution:1600×1200 @200 PPI
Processor: Quad-Core 1.5 GHz
RAM:2GB DDR4
Internal Storage:64GB
Battery:3400 mAh
Features
Front Light
Color Temperature
Compatible Boyue Stylus for notetaking and PDF editing
Huawei MediaPad M5 Lite 10 for Reading
The HUAWEI MediaPad M5 Lite has a 10.1-inch 1080p large display with HUAWEI ClariVu technology to enhance display clarity and brightness. It comes with an Enhanced Eye-comfort Mode designed to protect your eyesight. Auto adjusts blue light depending on the time of the day and ensures you keep a safe face to screen distance.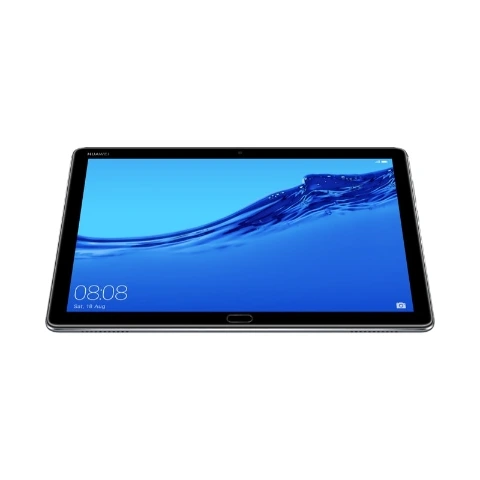 Enjoy a longer reading time after charging with its 7500 mAh battery. Though the software is not specifically designed for reading, with its EMUI 8.0 (Based on Android 8.0) operating system, you can install the best ebook readers and read any format. Powerful quad-speakers make listening to audiobooks better with optimized concert hall audio effects and 3D surround sound
Works with the HUAWEI M-Pen lite Stylus, so you can easily take notes and highlight as you read along. And its Lightweight metal unibody design with curved edges gives it a nice feel in the hand.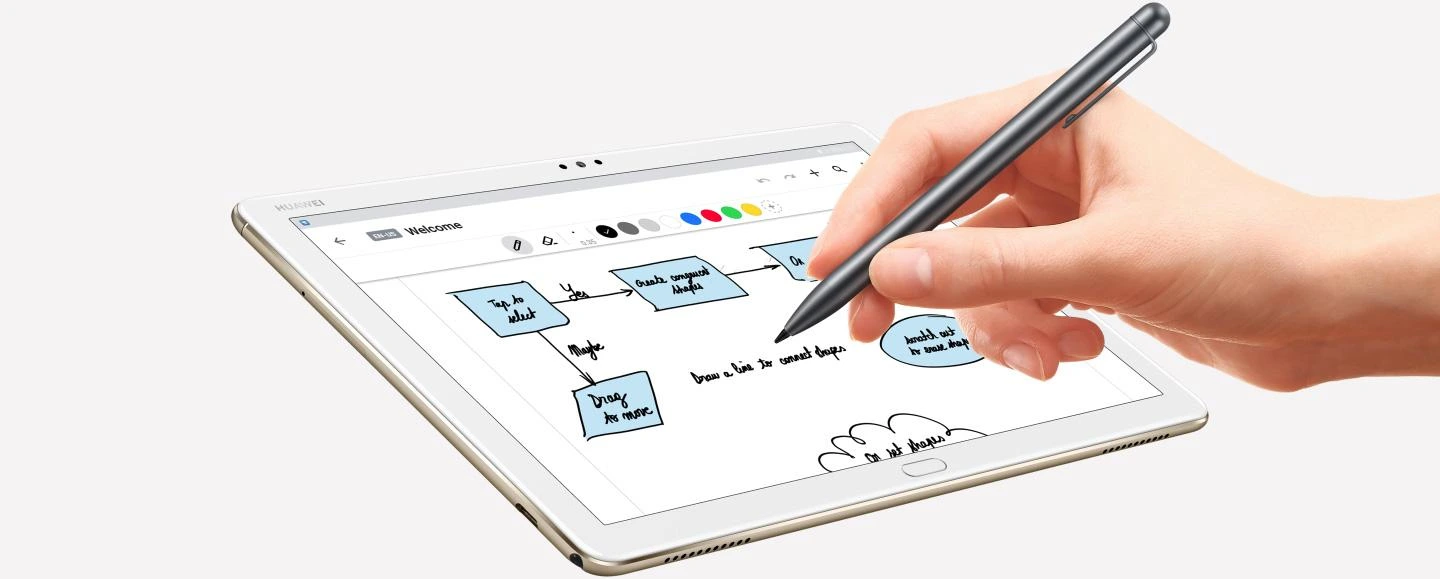 Spec
Size: 243.4 x 162.2 x 7.7 mm
Weight: 475 g
Display: 10.1 inches, 1920 x 1200 IPS screen, 224 PPI
Memory: 32 GB / 64 GB, expandable up to 256 GB
Battery Capacity: 7500 mAh
Features
HUAWEI ClariVu technology
Android 8.0
Eye comfort mode
Fire HD
The Fire HD 8 cuts across all things entertainment. Movies, games, music, and the reason you are looking for, are ebooks. With 8 inches of pure HD display, you get to see and read it all in detail.
Use Alexa to quickly get things done. Jump right to that last read or search something by just saying "Alexa" even when your screen is off. Also, the VoiceView screen reader is a reliable accessibility option for navigation as well.
The screen time feature makes it suitable for use by everyone in the family. Child profiles with adjustable screen time and content management can be created. Comes with free access to Amazon kids as well, to get good kid-friendly reads
A faster performance thanks to its 2.0 GHz quad-core processor. and Battery lasts up to 12-hour on a single charge.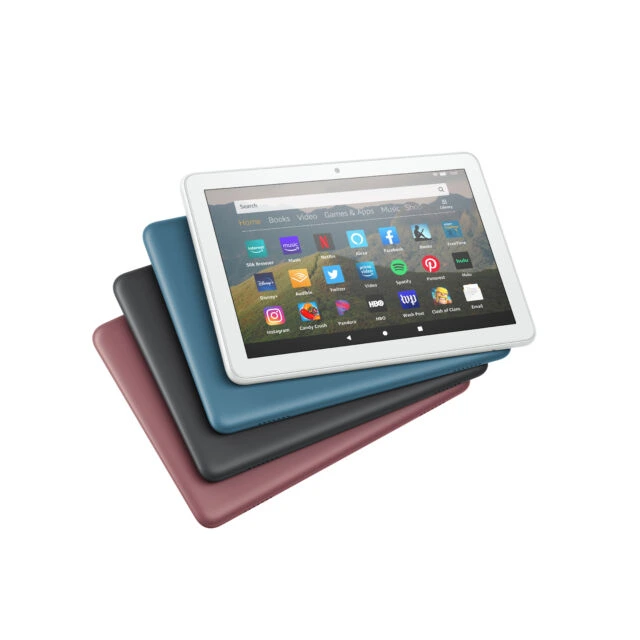 Specs
Dimension: 8.0 x 5.4 x 0.4 inches (202 x 137 x 9.7 mm)
Display size: 8 inches
Display Type: High-definition IPS touchscreen
Display resolution: 1280 x 800 resolution at 189 PPI
Weight: 12.5 oz (355 g)
Storage: 32 GB or 64 GB
Battery life: Up to 12 hours
Connectivity: Wifi and 4G
Features
Accessibility features – VoiceView screen reader
Parental control
Ambient light sensor
Wireless charging
Antiglare screen.
Apple iPad Mini
Small yet powerful, the Apple iPad Mini is cool for reading. Its large 8.3 inches edge-to-edge screen features a Liquid Retina display for realistic view and low surface reflection. Up to 500 nits of peak brightness keep you going even under bright sunlight.
Apple pencil attached magnetically allows you to do all the annotations you need at any time. Touch ID to secure your reads if you want to
Running on the A15 Bionic chip, it can handle whatever you throw at it. iPadOS supports Multi-touch gestures for easy navigation. Plus accessibility options for those with impairments.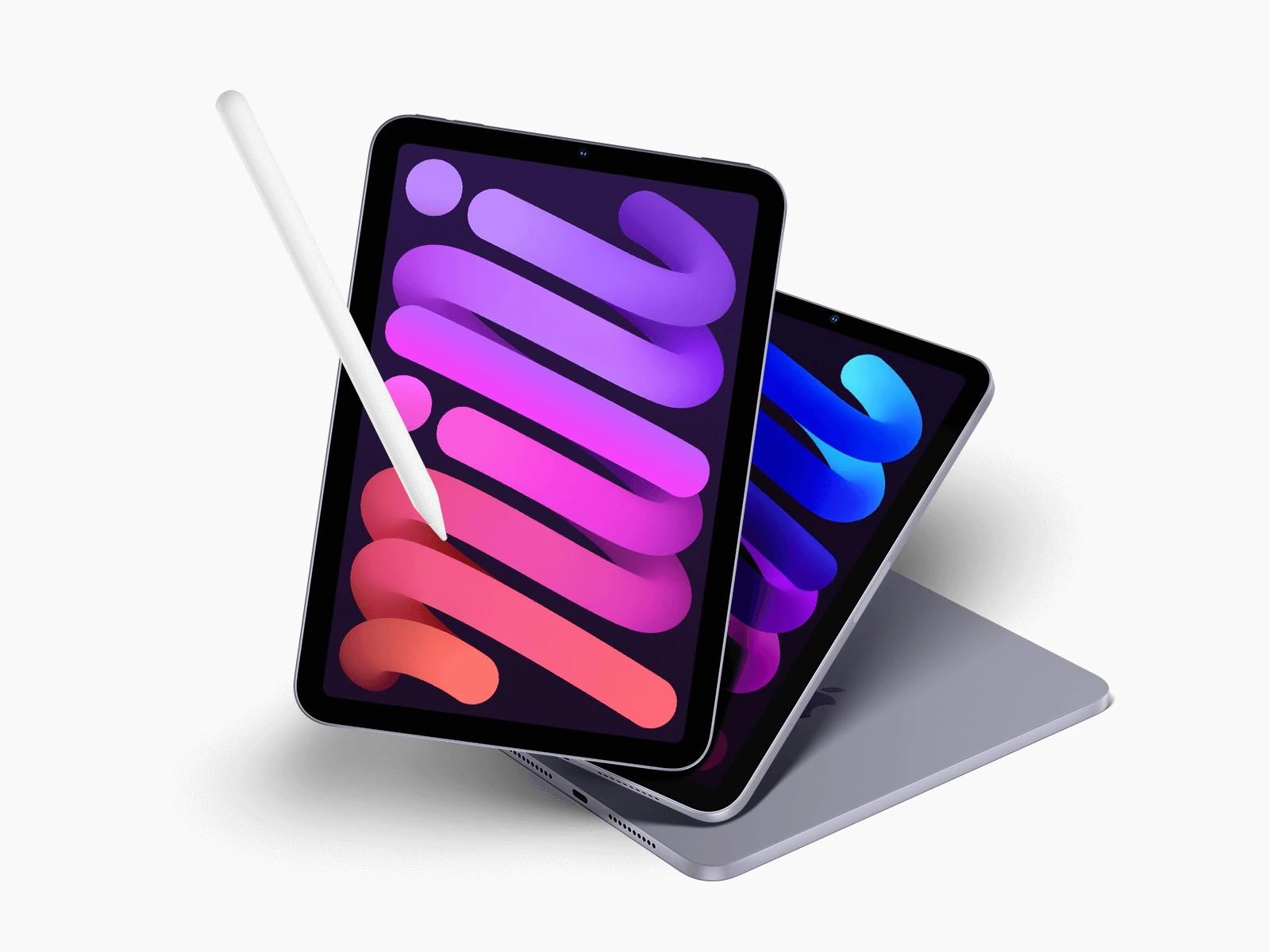 Specs
Dimensions: 7.69 X 5.3 X 0.25 inches (195.4 X 134.8 X 6.3 mm)
weight 0.66 pounds
Display size: 8.3 inches
Display: Liquid Retina IPS display, LED-backlit Multi-Touch display
Resolution: 2266 x 1488 resolution at 326 PPI
Features
Powerful A12 Bionic processor
Wide color display
True Tone display
Anti Reflective coating
8% reflectivity
500 nits brightness
Supports Apple Pencil (2nd generation)
10-hour battery life
Final thoughts
Tablets of fairly large sizes make a good reading device. Most importantly, the display type. For a good reading experience, E ink displays are the best for reading. Other standard displays do also suffice, so long as they have the features to keep you going day and night.
Related Posts:
Please follow and like us: