Best Glock accessories
A regular Glock is just a regular Glock. To Up your skills, you need improved add-ons, and this is the list of the best Glock accessories.
The Glock is a brand of semi-automatic pistol that has grown popular over the years. Used by lots of professionals and shooting enthusiasts in both hunting and sports, there is a whole new world of aftermarket upgrades for the Glock.
A factory default Glock pistol is not so bad, but if you are looking to get the best out of it, equipping some add ons will do the trick. Following our recent post on 5 Best Smart Thermostats of 2022, here are the 6 best Glock accessories 2022.
The best Glock add-ons you need to have
It's a big range to choose from, but we have narrowed it down for you. Let's look at the best Glock accessories in the market.
1. Trijicon RMR Type 2 Red Dot Sight
With a 3.25 MOA dot suitable to easily locate targets at long range with improved accuracy, the Trijicon RMR Type 2 Red Dot Sight is a must-have for your Glock.
The LED has easy control buttons on both sides for adjusting brightness and switching between manual and automatic modes. It can be disabled or locked when using automa8 mode to prevent unwanted changes by mistake.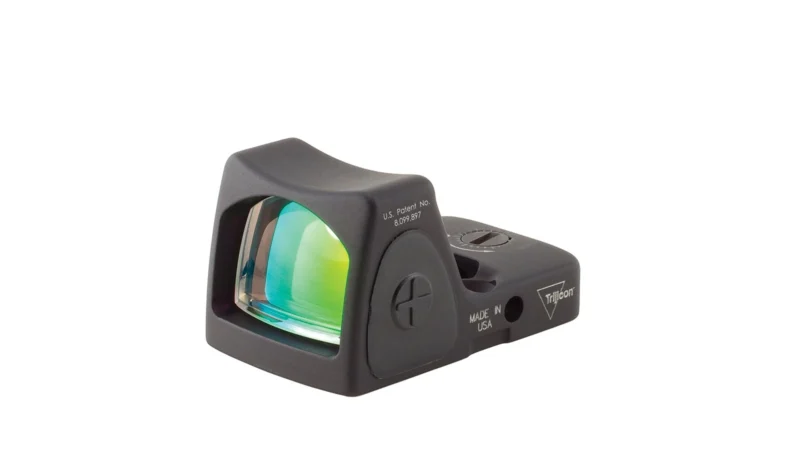 Specifications
Dimension: 1.8 x 1.1 x 1 inch
Weight: 1.2 oz
Magnification: 1x
Reticle Pattern: 3.25 MOA Dot
Reticle Color: Red (Day and night)
Bullet Compensating: None
Illumination Source: LED
Battery type: 1 CR2032 Lithium Battery
Battery Life: Up to 2 years of typical use
Adjustment: 1 MOA Per Click
Frame Material: Forged Aluminum
Finish: Matte Black
Features
Night vision device compatibility.
Patented housing shape for outstanding durability – Impact force is directed from the lens.
Waterproof design – up to 20 meters depth.
True color multi-coated lens – Little changes to the target area color
Easily adjustable 1 MOA per click windage/elevation
Multi-platform compatibility – use with different gun types.
Dual illumination option – Combination of a Tritium phosphor lamp and fiber optics auto adjustments.
Adjustable LED – Button on the side for switching on and off, adjusting brightness, and switching between manual and automatic modes.
Battery conservation mode – Automatic settings to extend battery life.
Upgraded electronics – Works perfectly even in harsh environments.
2. Faxon G17 TiN Barrel
Made entirely from 416-R stainless steel, this barrel is stress relieved, immune to distortion of any kind. So barrel dimensions will always stay the same for long-lasting accuracy. The Faxon G17 TiN Barrel has a black Nitride surface coating finish to cut down on friction within the barrel and increase resistance against wear.
Compatibility with factory spec slides makes it easy to fix in place with a tighter lockup. The barrel is also rifled so you can use it with different ammunition types.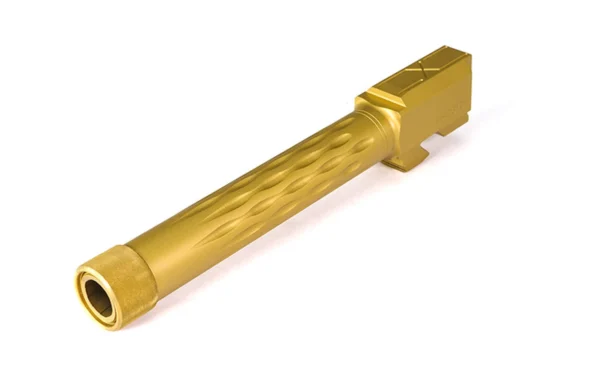 Specifications
Handgun Type: G17
Barrel Material: 416-R Stainless Steel
Barrel Caliber: 9mm
Barrel Profile: Flame Fluted, Drop-In
Barrel Twist: 1:10
Muzzle: 1/2×28 TPI thread
Crown Type: 11-degree Target Crown
Rifling: Conventional, Button Rifled
Finish: Salt Bath Nitride and TiN PVD
Features
416-R Stainless steel Barrel body
11 Degree Target Crown – For added accuracy and protection.
Tighter frame tolerance – Barrel stays in place without moving.
9mm SAAMI standard Chamber – Can be used with other SAAMI standard ammunition and attachments.
Conventional Rifling
Compatible with Gen 1-4
3. Vortex Venom View
A good add-on if you are in for rapid target shooting. The Vortex Venom View enhances the target and surrounding view from your Glock seamlessly. Housed within a tiny rugged aluminum frame, view obstruction is greatly diminished, allowing easy transition from target view to the view of the surrounding. So while looking at the target, you already know what is next.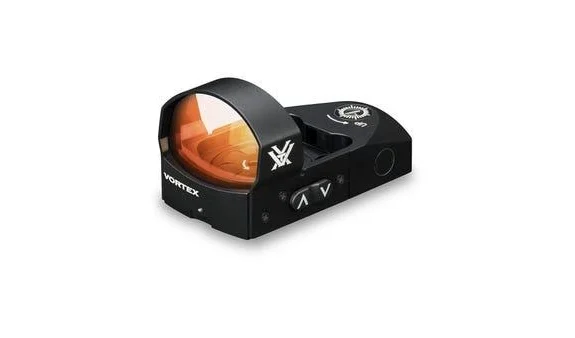 Specifications
Length: 1.9 inches
Weight: 1.1 ounces
Battery type: CR 1632 battery
Battery life: up to 150 hours on highest settings.
Mount Type: Weaver/Picatinny
Magnification: 1x
Dot Color: Bright Red
Dot Size: 3 MOA
Eye Relief: Unlimited
Adjustment Graduation:1 MOA
Max Elevation: 130 MOA
Max Windage: 100 MOA
Parallax Setting:None (Parallax Free)
Housing finish: Matte Anodized Finish
Features
Wide field lens
ArmorTek Ultra-hard lens coating – Immune to scratch, oil, and dirt.
Multiple anti-reflective coating
10 levels of adjustable brightness – Can be switched to automatic.
Industry-standard parallax-free red dot.
Unlimited eye relief.
Single-Piece Chassis Compact and lightweight.
Waterproof O-ring seals.
Shockproof Rugged construction
4. Streamlight TLR-6 Tactical Gun Light
As a tactical weapon light, the Streamlight TLR-6 is vital for identifying targets in poor lighting conditions. It is designed to securely grip your weapon with a contoured housing. Waterproof with An impact-resistant polymer body, it can be used in varying environments.
Also, the TLR-6 can be available with a red aiming laser.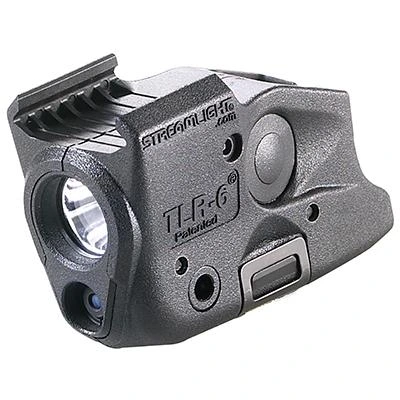 Specifications
Maximum brightness: 100 Lumens
Battery Type: CR-1/3N Lithium (2 pcs)
Run Time: 1.00 hours
Beam Distance: 89 meters
Max Candela: 2,000
Length: 2.20 – 2.97 inches
Weight: 1.12 – 1.27 ounces
Colors: Flat Dark, Earth Brown and Black
Features
89m beam distance – Powerful beam of 100 lumens.
Two-way side push buttons – Easily make adjustments whether you are right-handed or left-handed.
Up to 1m Impact resistant polymer build
Laser windage and elevation adjustments
1 hour LED runtime – Up to 11 hours when using only a laser.
Mounted battery replacement – Replace batteries without having to unmount.
5. Lone Wolf AlphaWolf Glock Slide Up
Serrated cutouts on the body and a tapered nose, reduce the structural weight and allow for maximum grip surface in all weather conditions.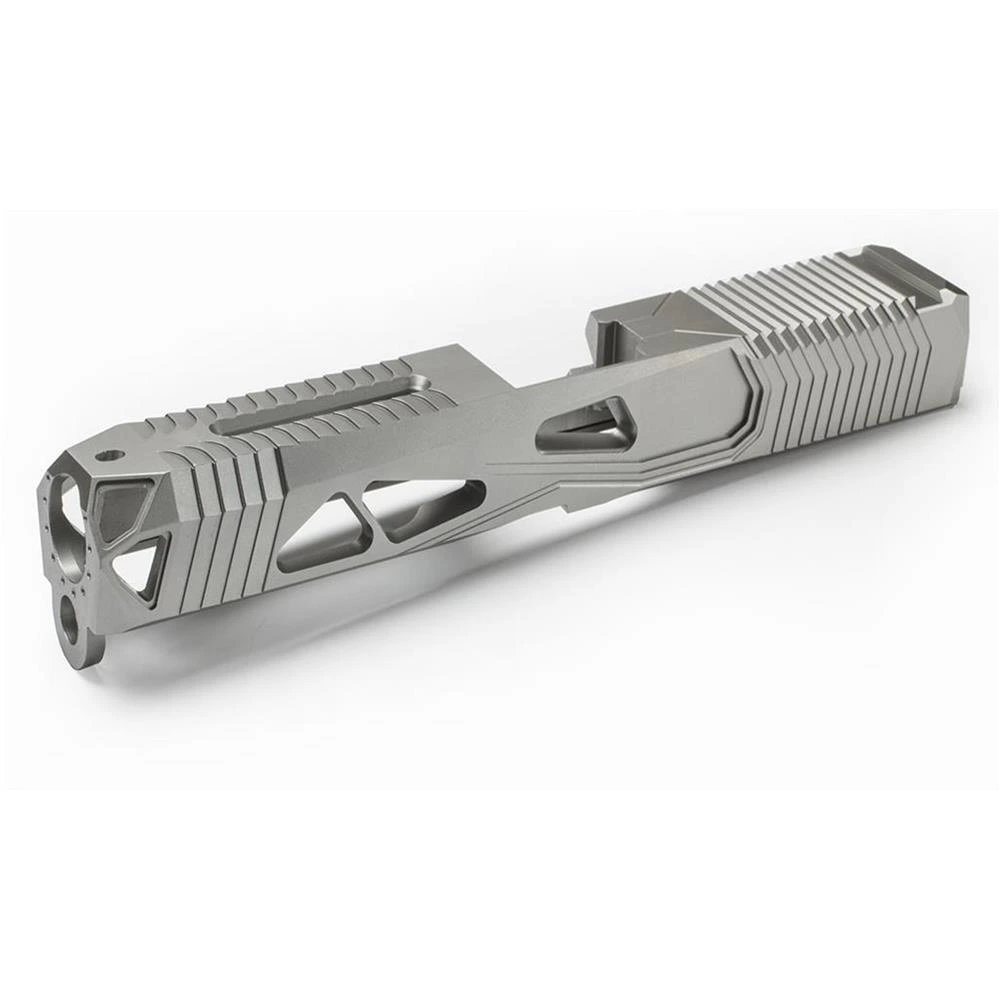 Specifications
Gun Make: Glock
Model Generation: Gen3
Additional Features: 20 Machining, 9mm
Color: Raw Stainless
Features
Gen3 frame compatibility
Bead blasted finish
17-4 PH1150 stainless steel body
6. Killer Innovations Velocity Glock Magazine
Taking advantage of the notches on the latest Glock models, this accessory takes your reloading game to another level. Extend the number of shots with this easily accessible magazine able to withstand burst fire. The velocity Glock magazine is designed with the comfort of the shooter in mind, aggressive E.G.F cuts on the sides and bottom front provide a good grip during reloading, regardless of weather conditions or how you choose to grab the magazine.
The Velocity Mag Extension is easy to mount and unmount without tools and can withstand drops from up to 6 feet (1.8 meters). Held in place by a retaining pin and sliding floor plate, it is easy to unmount for cleaning without any need for tools.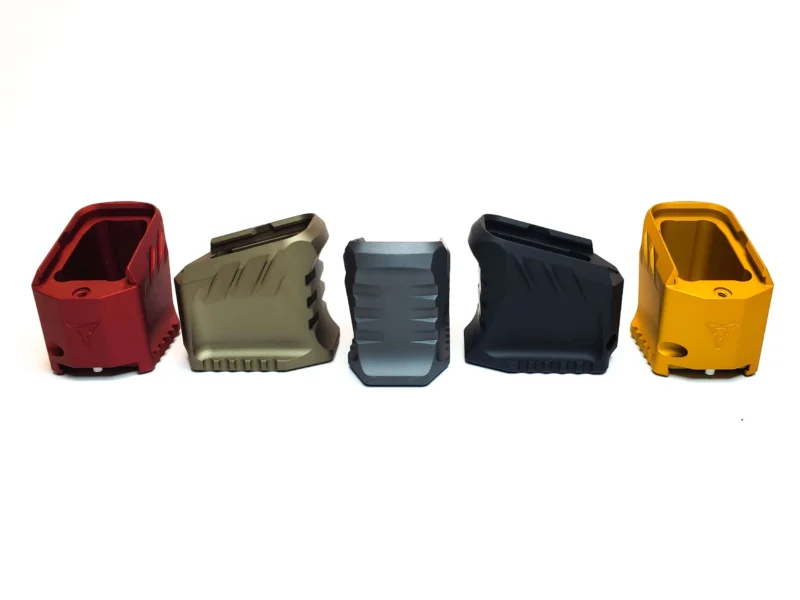 Specifications
Body material: 6061 T6 Aluminum
Finish: Anodized finish
Dimensions: 1.5 x 1.79 x 1.66 inches
Capacity: 9mm +5 rounds .40 +4 rounds
Weight and compatibility depending on model:
For Glock 19 Velocity Mag Extension
Weight: 1.5 oz
Compatibility: Glock 19, 23 and 32
For Glock 17 Velocity Mag Extension
Weight: 1.4 oz
Compatibility: Glock 17, 22, 24, 31, 34 and 35
Features
Extended spring
High-quality 6061 T-6 aluminum body
Anodized finish for added durability.
Toolless floor plate attachment.
Enhanced grip
Final thoughts
Modding and equipping your Glock pistol with any of the above will bring ease to the way you hit targets. While you do so, it is advisable to keep your pistol holstered to prevent accidental discharge of the gun or accompanying accessories. Best Glock accessories.
Related Posts:
Please follow and like us: